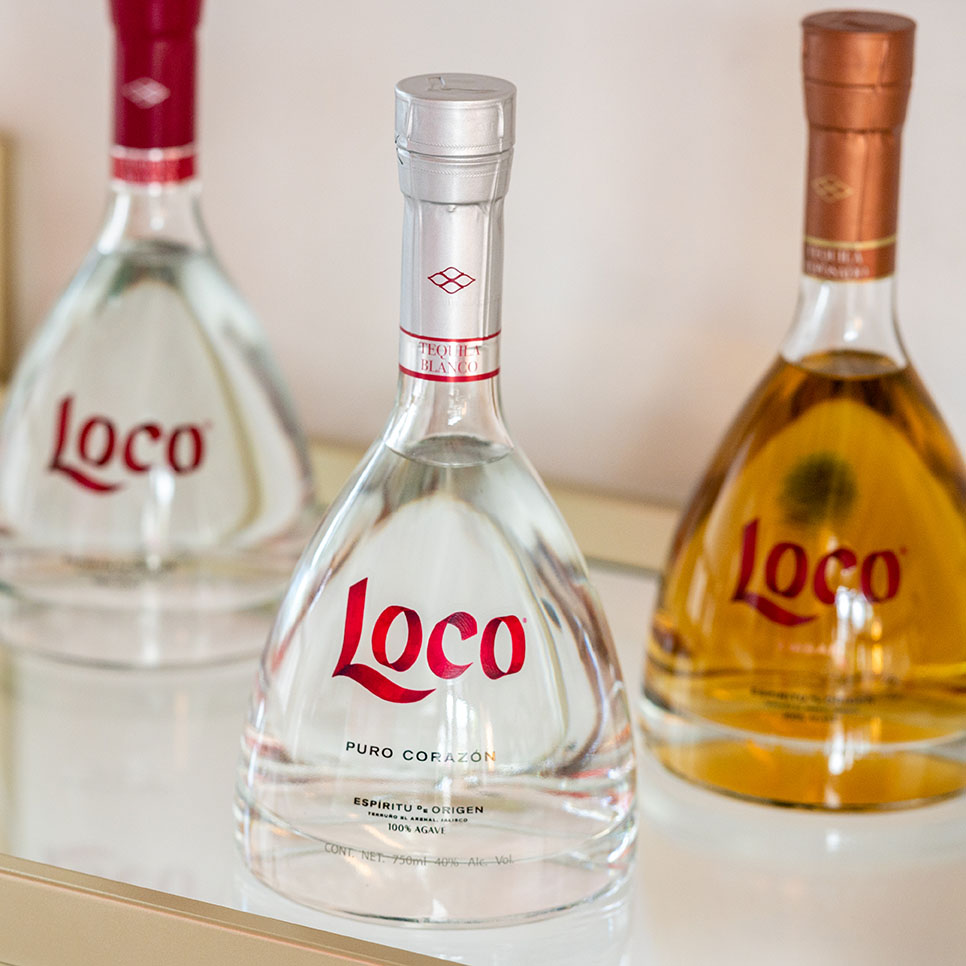 THE LOCO COLLECTION
One package containing each of Loco Tequila's expressions:
Loco Blanco: a white tequila with a strong heritage, and a unique artisan process.
Loco Puro Corazon: a white tequila of exceptional purity, elegance, and quality. Truly unique in the market.
Loco Ambar Reposado: a limited production Reposado Tequila that exhibits a measured complexity that is layered, elegant, and innovative.
Each bottle is numbered and delivered in a unique case designed by legendary artist Jan Hendrix. This impeccable distillate will simply blow you away.
LOCO BLANCO
Loco Blanco's starting point is where others leave off, creating the possible from the impossible. Blanco is for the discerning connoisseur who inherently understands artistry and bespoke craftsmanship. A white lineage tequila created with ancestral and artisan techniques. Powerful and dynamic; It's the perfect balance between style and character.
LOCO PURO CORAZON
THE PASSION AND BRAVERY TO GO BEYOND WHERE OTHERS HAVE BEEN TO CREATE A TRANSFORMATIVE AND INCOMPARABLE DISTILLATE.
PURITY, ART, AND EXCEPTIONAL ELEGANCE
With an unparalleled pedigree, this extraordinary sipping distillate is unrivaled in its purity, elegance, and refinement. Only the pristine and finest essence of the distillation's heart makes it into Loco Puro Corazon making it truly remarkable and exceptionally rare.
LOCO AMBAR REPOSADO
Loco Ambar is a limited production Reposado Tequila that exhibits a measured complexity that is layered, elegant, and innovative. The highly artisanal process incorporates a carefully balanced selection of new and aged barrels. The matured Irish whiskey and stout beer provide compelling and exotic notes of honey, malt, roasted grains, and cereals; the one that aged port gives delicate notes of nuts; Pedro Ximenez sherry provides fine floral and herbal notes, and French white oak contributes exquisite and elegant spicy notes.
Loco Ambar rests for six to eight months in each barrel so that our Maestro Tequilero achieves the perfect and complex balance. The amber hue reflects the aroma and flavor of the cooked agave, the mineral notes, and the herbal character of Loco Blanco as it matures, which are perfectly integrated and evolve into an expression of unparalleled quality, never seen in any other tequila.
The extraordinary takes time, that's why Loco Ambar is exceptional.
FINE PAIRINGS WITH THE LOCO COLLECTION
Blanco tequila allows the natural agave flavor to shine through, adding notes of vanilla, pepper and minerals into your meal. When paired with food, Blanco tequila pairs best with lighter meals, like vegetables, seafood or citrus-based dishes. Review our recipes below for a unique tequila and food pairing, and experience how each play off of the other.
Chef Traci des Jardins created this bright and refreshing recipe to pair with Loco Tequila's Loco Puro Corazon.
View Recipe
Tapas-style Agua Chile is prepared with fresh scallops or prawns, and serrano peppers – for a little heat.
View Recipe
Fresh and spicy Ceviche Acapulco, prepared with locally caught red snapper and serrano pepper – for a little heat!
View Recipe